Benefits of having a Gap Credit Card are
15% Off on first purchase made with your card,
5 Points for every $1 spent on Gap online and local stores.
1 Point for every $1 spent anywhere else where VISA is accepted.
$5 reward for every 500 points.
How to Login to make payments
Step one: Visit http://www.gap.com
Step two: Click on CREDIT CARD in the top right hand side
Step three: On the next page click on LOG IN

Step four: In the next page enter your user ID.
Step five: Your User ID Leads you the password page where you enter your password. You will be logged-in to make payments.
Forgot your Gap Credit Card password?
You need to have your Gap Credit Card to retrieve your User ID
Step one: Click on the lookup User ID
Step two: Enter your Gap Credit Card account number and the last four digits of your social security number and click Continue.

To retrieve your password;
Step one: After entering your User ID, click on Forgot Password?
Step two: Enter the email you registered with. A link to reset your Gap Credit Card shall be sent to your email, the secret word used in creating Gap account shall be needed to make password changes.
How to Apply for a Gap Credit Card
The Gap Company in conjunction Synchrony Bank produce two types of Gap Credit Cards, the Gap Card and Gap Credit Card. Gap Card can only be used to shop in Gap stores while the Gap Credit Card can be used to shop in any store branded with Visa Card sign.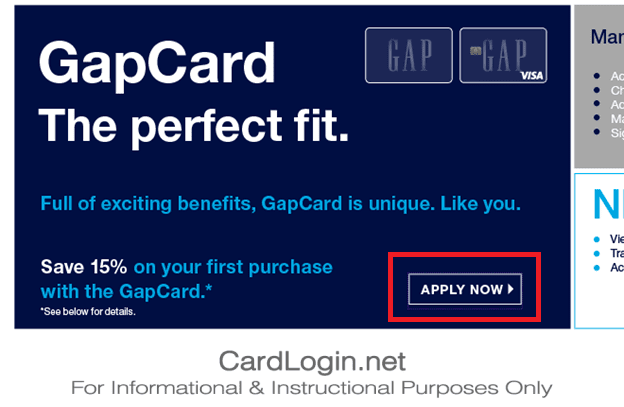 Step three: Fill Your Information on the next page. Here you are required to fill your first and last names, at least one address (no postal offices numbers allowed), city, state, zip code and home and mobile numbers. You are also required to fill-in your email (the email used to create your Gap account) and average annual income.
Step four: Enter your Verification information. Which is your date of birth, social security number, your mother's maiden name.
Step five: Choose either paper or electronic method of statements delivery.
Step six: Keenly read through the Important Information, Credit terms and conditions of Electronic Communications.
Step seven: Mark the check box to confirm that you agree with terms of credit and consent of Electronic Communications.
Step eight: Click on SECURE SUBMIT to submit.
How to activate your Gap Credit Card
On application for either of Gap Credit Cards, it is delivered to your home address indicated in Your Information
Step one: Visit http://www.Gap.com.
Step two: On next page, click on Register & Activation just below login.
Step three: On the next page, enter your Credit Card account number. Validate that you are the primary Credit Card holder and in possession of the card. Select your preferred security plan and click on Continue.